CYCLE CHECK TM
**
Ovulation Monitoring Kit with Saliva "OR" CERVICAL MUCOUS: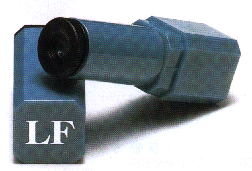 Why Monitor Ovulation?
Natural Birth Control
Desire for Pregnancy
Family Planning
Traditional Methods:
Basal Temperature
Calendar Tracking
Luteinizing Hormone Urine Test (LH Tests)
Problems of Traditional Methods:
Basal Temperature

Need to measure in early morning
Inconvenient
Demands continual monitoring
Difficult

Calendar Tracking

Tedious
No indicator of actual ovulation
Time consuming

LH Tests

Messy
Difficult to administer
Very inconvenient
Difficult to urinate on demand
Can be very expensive - 1 time use only
The Solution: THE CYCLE CHECK!!!
Premium Ovulation Monitoring System
Uses Saliva
Discreet Design - Lipstick Look
Attractive & Easy to use
Reusable
Convenient
Results in 5 to 7 minutes
CYCLE CHECK Technology:
Ferning of saliva during ovulation
International studies on this topic
Accuracy is about 78% to 80%
Basically a miniature microscope
Simple to Use:
Place saliva sample on glass piece
Let saliva sample dry (5 to 7 minutes)
Observe through eyepiece
Clean glass with soft cloth
Advantages over the Competition:
Superior in Design & Manufacturing
Highest Quality - Increased Accuracy
Light & Durable
50X Magnification versus 32X
Green light is easy to read (Competitors have yellow light)

Other Product Features:
2 Colors Available (Green & Ivory White)
Compact Packaging